No: 599 Date: 1 February 2019

If you would like a copy sent direct to you - sign up here
---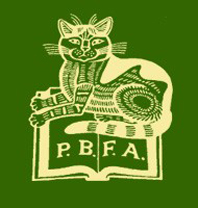 Visit website for benefits
of membership
---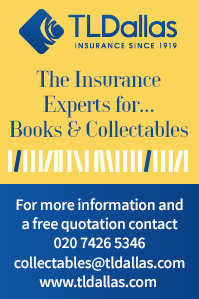 ---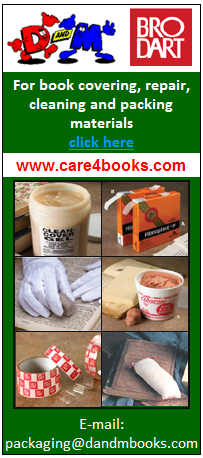 Click here to download the NEW 2019 catalogue
---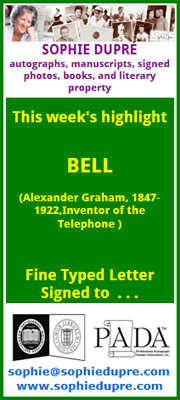 TRADE SUPPLIERS
A new service for our readers
View full details

The list of suppliers will grow as time passes - these are listed to date.
All are UK based unless indicated
Auctioneers
Dominic Winter


Book Binders

Temple Bookbinders Ltd

Bespoke Box Maker for Books and Pamphlets
Box Clever @ Bheula Framing

Insurance
T L Dallas (City) Ltd

IT Support
Atlanticweb.co.uk
Packaging Materials

D & M Packaging Ltd

See details
under Trade Notes
---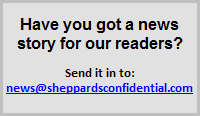 ---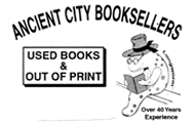 BONSUMMERS@aol.com
Located in St. Augustine, Florida USA
---
Sign up either as a Dealer or
Collector / Trade Member
---


UK: Ups and downs of life in a bookshop: Chinese store leaves customers on a stairway to literary

A bookstore straight from the pages of a book lover's fantasy has been brought to life in an impressive architectural feat in China. Optical illusions and mirrored ceilings make the Zhongshuge Bookstore in Hangzhou, China feel never ending as thousands of colourful covers are reflected from wall to wall heaven. Read more
UK: Hold the front pages: meet the endpaper enthusiasts

Faced with the hideous maw that is today's news cycle, there could be little more soothing than slipping into the esoteric world of We Love Endpapers, a society for enthusiasts to share their favourite examples of the most beautiful pages bookending tomes. Read more
UK: Myth of King Arthur and Merlin revealed as experts discover seven pages of a 700-year-old manuscript
Seven pages of a manuscript from the Middle Ages have been unearthed in a library archive telling the story of Camelot, King Arthur and Merlin. The pieces measure around 8-12 inches (20-30 cm) and date back from the 13th century. Read more
UK: Bookbinder Bernard Middleton has died aged 94
Born on 29 October 1924, legendary bookbinder Bernard Middleton spent much of his life working with British Library collection items at the Library's bindery, then known as the British Museum Bindery.


Italy: The tiny library bringing books to remote villages
Antonio La Cava transformed his three-wheeled van into a travelling library, the Bibliomotocarro, to make sure no child goes without a book. Read more
[Another example of an initiative that could be adapted by our trade. But not - a three-wheeler and very unstable! Ed.]
Canada: Regina man finds $18,000 comic book while cleaning home
The last thing Alan Neumiller expected to find when he was rummaging through old stuff was a comic book worth $18,000. "It was a fluke, I guess you could say," Neumiller told CBC Radio's Saskatoon Morning. Read more
USA: Florida school unveils book vending machine
A book vending machine is now up and running in Florida. At the drop of a coin, kids can pick up a book of their choosing from a variety of subjects. A refurbished machine is being used, and the scholastic dollars from Umatilla Elementary School helps fill it. Read more
[We have reported these devices before - surely there is a use for dealers to boost sales? Ed.]
USA: The most magical 'Little Free Library' is built right into a tree stump
Stone steps lead up the sloped front yard to what remains of the tree. The 10-foot-tall trunk has a shingled roof that extends a little over the edges. A lantern-style lamp lights a row of tiny faux wooden books that make up the library's decorative dentil molding. The real books, however, are visible through a vintage window-turned-door. Read more
USA: You can buy Hugh Hefner's book collection and more at Rare Books LA event
There's an old joke about Playboy magazine that suggests its readers buy it for the articles. But jokes aside, magazine founder Hugh Hefner was a reader. He had a diverse library, which included works by Shel Silverstein, George Plimpton, David Halberstam and Gay Talese, all authors who also contributed to Playboy, among others. Read more

UK: PBFA Cambridge Premier Book Fair 15 and 16 February

The eagerly awaited PBFA Cambridge Book Fair 2019 returns to the Guildhall with a vast array of books and topical Material. This is a major event.
Taking place over two days, The PBFA Cambridge Book Fair returns to the Guildhall on the 16th and 17th of February. Featuring a staggering 85 plus exhibitors, the Fair continues to attract an ever-increasing number of visitors year on year. Bibliophiles are drawn to the wealth of material on offer, ranging from manuscripts, posters, science, equestrian books, early printing, medicine, mountaineering and miniature books through to first editions, children's and illustrated books. All the stock provided by knowledgeable experts and independent booksellers from up and down the country.
Sarah Key, one of the fair managers, anticipates that will be some 'surprise highlights', currently not available to preview on the website, to watch out for. Although more items will be added in the run up to the fair, much covetable and rare material will only be made public at the event itself. Confirmed highlights currently available to view online include a fine first edition of C S Forster's
African Queen which will be on offer at Bow Windows Bookshop's stand. Another highlight to seek out is a delightful Winnie The Pooh book, from 1973, which features all the inhabitants of the 100 Acre Wood seen in colour for the first time (Sarah Key stand) and John Underwood will be bringing along some macabre trench art playing cards, created by 8th Duke of Atholl in 1916.
Many rare local interest books and ephemera will also be available to buy. Of particular note is the wonderfully spooky first edition of ghost stories set in Jesus College - Tedious Brief Tales of Granta and Gramarye – by Arthur Gray (Sarah Key stand) and the mystical Archaic Tracks around Cambridge by A Watkins, discussing ley lines around the city (Missing Books stand).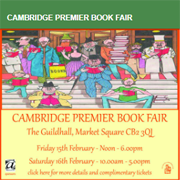 The Cambridge Book Fair is also delighted to confirm that it will be supporting The Friends of Cambridge Central Library again this year. They will be present over both days, continuing their sterling work in raising awareness and funds in support of their campaign to keep the local library open. And finally, The Indigo cafe will be offering a range of affordable refreshments, including their famous flapjacks, which will surely keep you content in between book browsing forays! As ever, complementary tickets to the event are available to download from the website: www.cambridgebookfair.org
Non-ticket holders are equally welcome - they will be able to buy tickets for £2 on the door.

[The new PBFA website is due to be launched shortly. All being well, there will be more about this new and exciting website to be seen at Cambridge Book Fair, so keep an eye open for announcements. Ed.]





UK: Buxton Book Fair, Sunday 17 February


The next book fair takes place on Sunday 17 February from 10.00am to 4.00pm. Make a note now!
Jane Millington and colleagues look forward to seeing you at the re- opened Octagon Room. Still in the Pavilion Gardens, St. John's Road, Buxton, Derbyshire SK17 6BE. There will be great support from dealers who will have - as usual - a wide range of titles on offer. A great time to bag a bargain!
Admission: Adults: £1.50. Concessions: £1.00. Accompanied Children 12 and under: Free. For further details please call Jane on 01782 542258.




Canada: Canada's Smallest Book Fair, 9 March

The Twenty-seventh annual Westmount Antiquarian Book Fair, Canada's Smallest Book Fair, will take place on Saturday, 9 March 2019 at the Greene Centre, 1090 Greene Avenue, Westmount, Quebec, Canada H3Z 1Z9, from 10am to 5.00pm. (Please note that Westmount is adjacent to downtown Montreal). Exhibitors from Quebec and Ontario will offer for sale a wide selection of books, maps, prints and ephemera in both English and French.
Info at (514) 935-9581 or www.defreitasbooks.com/wbf.html



Click on above image to find details of all future auctions

Notice: Anyone accessing their details via Sheppards Confidential

Where you have applied your known logonID and password and found that they fail the solution may well be to go back and enter this in the browser line:
https://www.sheppardsconfidential.com - this takes you to the usual home page. Then enter your logonID and Password in the usual way.

The difference is that we have added a security certificate (hence the 's' in the http). The addition is in preperation for the testing and uploading our new website

UK: The Bookhunter on Safari
Readers might like to follow Laurence Worms (ABA's Past President), as he writes about the trade and the dealers he visits on his safari around the UK!
Click on image to read his latest posting.






UK: Industry & Idleness

We welcome a new blog by Marc Harrison, of Harrison-Hiett Rare Books and Past Chairman of the PBFA. Click on image to read his latest news.




Catalogues on Sheppard's Confidential
Catalogues sent in are uploaded to our website where they can be searched and browsed. Placing them on one location makes it quicker for users to locate catalogues containing the subjects of books in which they are interested. So we welcome catalogues from all members of the trade. Note: Number of titles included in catalogue are being added where known in [brackets].

If you use an iPad and have had difficulty in seeing PDF files, please download iDownloader to your device first.



Denmark:
Sophia Rare Books
(California International Antiquarian Book Fair 8-10 February)
[60]
UK:
Porcupine Books
(Anthologies, Magazines, Young Adult and Childrens', Non-Fiction, Pictorial and Illustrated, Science Fiction, Fantasy, Horror and Young Adult books) [427]

Zetetic Books

(Strikes, Anti-War, Greenham Common, Economics, Education, Situationism, Fireworks)

[24]
Collinge & Clark

(Book Arts, Books about Books, Calligraphy, Engraving, Fine Printing, Limited Editions, Printing, Private Press, Publishers, Typography)

[91]
Sanders of Oxford (Surveying the City -400 Years of Oxford Plans & Panoramas)
Altea Gallery Ltd (Miami International Map Fair)



To download these and all others - there is a large number on the site to view and the list is updated weekly - go to: Catalogues

Please contact dealers direct and mention where you saw the book! Note that catalogues remain on view for approximately four to seven weeks, some longer when requested.
New catalogues are always welcome. If you have one, then please send it to us at: office@sheppardsworld.co.uk

Note: Prefer files in a PDF format but we can convert Word and HTML files. If possible please add your contact details at the top of the first page, a summary of subjects and a total of items on the first page after the cover.






Letters to the Editor


[The views and opinions expressed in this letters column are not necessarily those of either the Editor or the Publisher. We welcome letters on any subject concerning the trade.]



No letters this week.


To browse the list and to see more details, go to www.sheppardsconfidential.com - View Books Wanted. Users can sort titles, authors, and publishers into alphabetical order.

Do check as new book titles appear from time to time.



To see the publisher and author for the titles shown below - click here.
If you have a copy for sale then notify the dealer by sending your e-mail address via this site. Latest additions to the list are shown in bold.